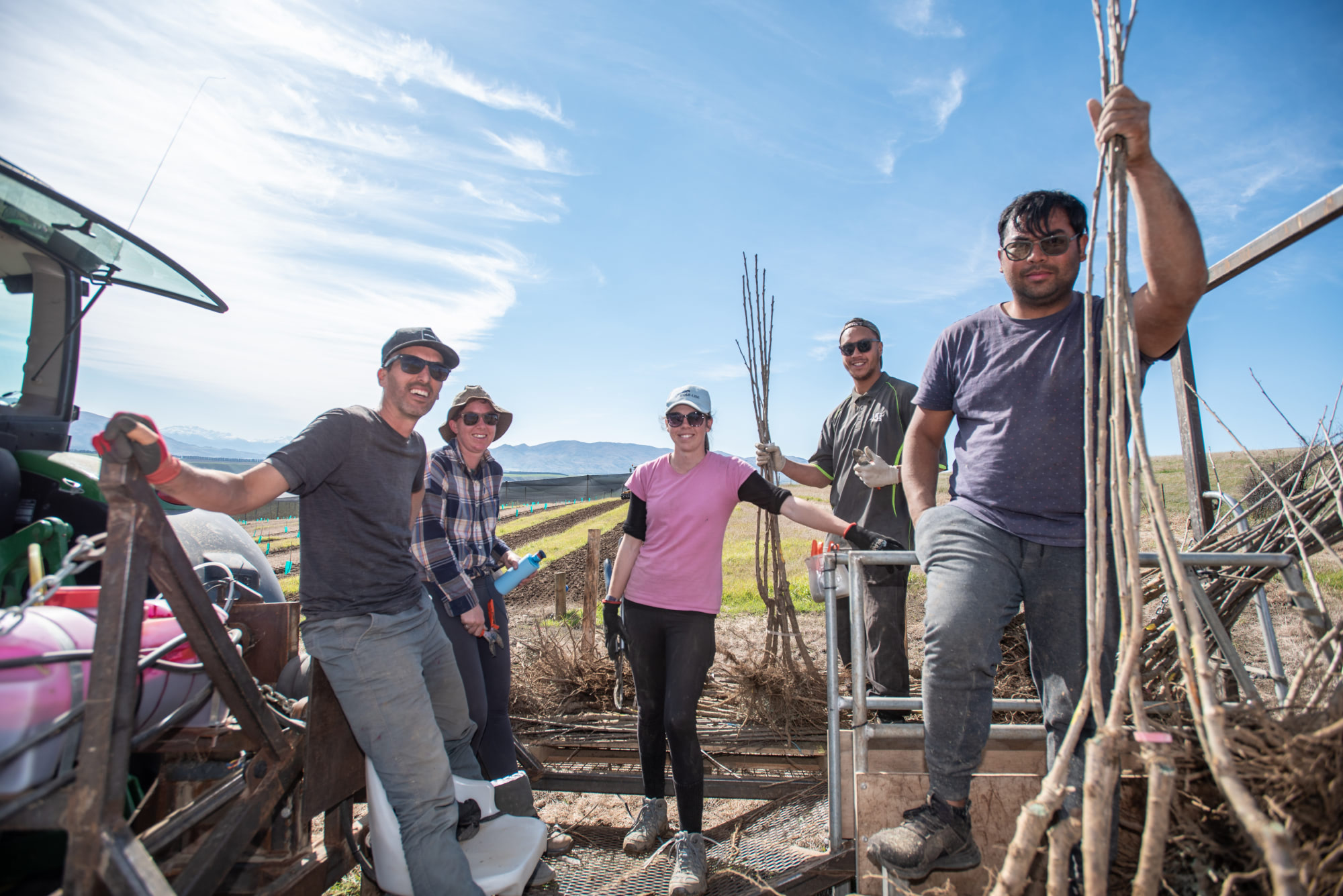 Our team
Our team, led by experienced horticulturalists and founders Ross and Sharon Kirk, strives to achieve quality at every step along the supply chain.
Ross Kirk
Co-founder, project & orchard development manager
Ross is a born and bred orchardist with more than 40 years' experience in sourcing, developing and, managing land, orchards and project-managing and operating packhouses. He has a deep understanding of horticulture and how to maximise production.
His broad experience includes all the practical aspects of husbandry, such as the latest machinery developments, irrigation set up, sprays, crop protection and compliances.
This knowledge, combined with the invaluable experience he has in effectively managing and setting up orchards and packhouses, plus his constant push to bring new technology, systems, and techniques – sourced from the best in the world – into the business, means he is at the leading edge of horticulture production in New Zealand.
Ross is renowned for designing his own equipment in a quest to create efficiencies and be ahead of the curve in New Zealand cherry production. While overseeing two significant planting phases at Lindis Peaks and Mt Pisa orchards, Ross designed a planting machine, which was built to his specifications. The machine enables up to 6,000 trees a day to be planted, nearly double that achieved previously.
In 2022, he project-managed the construction and fit-out of the state-of-the-art Lindis Coolpac packhouse. The packhouse was the third packhouse Ross had project managed from greenfield to turnkey site in the Central Otago region since 2014.
Ross oversees multiple crews to develop and manage orchards at Tarras Cherry Corp, Mt Pisa, Lindis Peaks and Ardgour Valley Orchards, Central Otago.
He attended Massey University to study for a Diploma of Horticulture.
Sharon Kirk
Co-founder, marketing & sales manager
Sharon is an experienced horticulturalist and export marketing professional who has played a leading role in developing the profile of New Zealand premium fruit on the world stage since the early 1990s.
During her international career, Sharon has established the export function and elevated the brand profile for multiple leading New Zealand fresh produce companies. She has also developed and operated her own businesses, including Southern Kowhai Exports.
In 2016, Sharon and orchardist husband Ross Kirk combined their expertise to establish Hortinvest. Sharon holds multiple positions on companies and boards that Hortinvest has founded or is a shareholder of. She is co-founder and chief executive officer of cherry producer and investment company Deep Creek Fruits NZ LP; international sales and marketing manager of Southern Fruits International, international sales and marketing manager of cherry producer Tarras Cherry Corp NZ; and co-founder and director of apricot and cherry producer Ardgour Valley Orchards.
Her background includes 13 years with export marketer Turners and Growers and 18 years running her export business, Southern Kowhai Exports and various consultancy roles helping fresh produce companies develop their export and marketing businesses.
She has a Horticultural Science Degree from Massey University and a Diploma in Management from the Institute of Management.
A people person, Sharon is dedicated to building a team as passionate as she is about delivering high quality produce to the world.
Brylee Bradley
People, systems and culture manager
Former teacher and educational administrator Brylee Bradley brings a passion for communication, and working with people from all walks of life to her role as People, Culture and Systems Manager.
Appointed in 2023, Brylee is responsible for recruiting employees including a seasonal harvest workforce, ensuring staff wellbeing, developing and implementing procedures and systems, fulfilling the health and safety function and performing personal assistant duties for Ross and Sharon Kirk. She was inspired to apply for the position after working in the Lindis Coolpac packhouse with her teenage sons during the summer of 2022-2023.
Prior to joining the team, Brylee was director of external relations and development at King's School, Auckland where she managed the school's gifting program. An extensive career in education included roles such as dean and director of admissions and special events manager. In 2013, Brylee was awarded a Fulbright-Meg Everton Professional Enhancement Award in Education which enabled her to undertake professional development in the United States.
Her wide-ranging interests include raising guide dog puppies, travelling with her family in their caravan volunteering and competing in trail runs. She is also a qualified rugby referee.
Brylee has a Master of Management and a Diploma of Business and Administration from Massey University and a Bachelor of Education from Auckland University.
Liam Kirk
Technical consultant
Fourth generation producer Liam Kirk – the son of Hortinvest founders, Ross and Sharon Kirk – is a horticultural entrepreneur.
Liam is focused on acquiring knowledge in the technological sector of the horticultural industry including operating Compac grading machines at three high-tech cherry packhouses since 2014, when he was still a teenager.
Since graduating from Mt Aspiring College, Wanaka, in 2018, he has owned and managed his own fruit and vegetable company and operated a retail pop-up business during Central Otago cherry season.
In 2019, Liam travelled to Turkey where he consulted on packhouse technology at a 4,500-tonne cherry packhouse in Turkey and in 2020 and 2021, he consulted on packhouse technology use in the cherry industry in the United States of America.
In the leadup to cherry season, Liam supports our marketing function, showcasing cherries to international buyers and during the season, he is a vital cog in the packhouse chain, ensuring the smooth operation of technologies and systems.
David Smith
Sales & marketing co-ordinator
David Smith has a wealth of experience in market development including executing sales and marketing strategies gleaned over more than 20 years as a result of owning and operating his own businesses.
David joined the team in June 2022 and is charged with supporting Sharon Kirk in marketing cherries and apricots domestically and internationally including deepening connections with existing markets and developing emerging markets. His role includes developing marketing materials and identifying opportunities to elevate the brand presence of Hortinvest and its related companies on the world stage. He is also responsible for project work across the business including handling specifications for machinery required to operate in multiple orchards and packing facilities.
From 2015 to 2021, David was business owner and co-founder of GoodNoze Pet Cuisine Ltd which developed and provided freeze dried raw pet food to national and global markets.
David, who is passionate about the outdoors life that Wanaka and Central Otago offers, has a love of skiing, mountain biking and playing tennis.
Christie Kirk
Horticultural apprentice
A passionate advocate for New Zealand horticulture and the possibilities it offers young people, Christie Kirk was inspired to follow the family path by parents and Hortinvest founders, Ross and Sharon Kirk.
Christie is studying for a Level 3 and 4 in Horticulture through Primary ITO. She is also completing a Diploma in Horticulture from Lincoln University.
Christie enjoys the rewards of seeing trees grow and change with the seasons and expanding her knowledge and love for horticulture. Her responsibilities include pruning, planting, bagging trees, laying irrigation, tree training, spraying, tractor work and mowing at Hortinvest's four managed orchards in Central Otago. During harvest, she assists with supervising seasonal workers and the Quality Assurance function.
While she prefers orchard work, Christie also has a wide range of experience in quality control, setting up and maintaining packhouse compliance systems such as GlobalGAP and GRASP and assisting with staff inductions. Christie gained this experience at various leading New Zealand cherry and apple packhouses after graduating from Mt Aspiring College, Wanaka in 2015. She joined Hortinvest in 2020.
David Mackessy
Engineer/mechanic
David Mackessy applies a knowledge of farm machinery and equipment gained over more than 20 years to his role at Hortinvest.
David is responsible for maintaining machinery and equipment at all Hortinvest-operated orchards in Central Otago. He grew up on a dairy farm in Ireland which gave him a sound knowledge of farming practices and machinery. David later moved to London where he spent 20 years working as a plant fitter, fabricator welder and machine operator.
While on holidays in New Zealand in 2003, he decided to stay and now calls "the land of the long white cloud", home. He has experience working on agricultural, construction, vehicle and site equipment in the United Kingdom and New Zealand.
David is trade certified as a mechanical engineer and has a National Diploma in Engineering from Rycotewood College, Thame, Oxfordshire. He joined the Hortinvest team in 2021.
Makayla Rasmussen
Horticultural apprentice
Growing up, much of Makayla Rasmussen's time was spent outside mountain biking, horse riding and tramping – making for an easy transition to her role as horticultural apprentice where she works in all kinds of weather.
Makayla started as a casual in winter 2021 and seized the opportunity to take on an apprenticeship when it arose, relishing the chance to discover the world of horticulture and learn an array of new skills.
Makayla's duties include spraying, pruning, ground preparation and maintenance, fruit harvest management and post-harvest care at Tarras Cherry Corp orchard.
Before joining the team, Makayla was employed as a horse groom at Taupo Hunt Master, Reporoa on the North Island, where she managed six horses.
Maaka Roberts
Horticultural apprentice
Maaka Roberts, who joined our growing family of horticultural apprentices in 2021, is assigned to the Lindis Peaks orchard, one of several in Central Otago under development by Hortinvest.
Maaka is responsible for maintaining safe work practices throughout the Lindis Peaks orchard, planting and caring for trees, preparing for harvest and supervising the orchard crew.
He has embraced the opportunity to further his career in horticulture and learn a range of skills in orchard production including tractor and machinery operation.
He joined during the team during the 2021 planting season, bringing four years' experience in cherry production including pruning, planting and harvest. He is also familiar with the end-stage of the cherry supply chain, having worked five seasons in a cherry packhouse until 2018. His experience extends to a winery where he was employed as a bottling hand.
Christi Schofield
Orchard worker
Christi Schofield worked in table grapes and sugar cane in vastly different locations in Australia before moving to Central Otago to work at Ardgour Valley Orchards' cherry and apricot operation.
Originally from Western Australia, Christi was working in sugar cane production as a field extension officer in Innisfail, Far North Queensland before taking up her position at Hortinvest in October 2023. The distinctive mountain landscape and chilly spring of Central Otago are a far cry from the hot and humid conditions of the tropical north and flat expanses of Western Australia.
Christi has an associate degree in agri-business from Curtin University, Western Australia and is passionate about a career in horticulture that has exposed her to a variety of high-value crops in different parts of the world.
She also enjoys being part of the gate-to-plate food production process and taking in beautiful scenery in her daily work outdoors. Everyday orchard work such as tractor work and crew supervision are among her duties.
Anahera Roberts
Orchard worker
Orchard worker Anahera Roberts was so inspired by her brother Maaka's experience at Hortinvest that she decided to join him and begin her journey into the world of growing fruit.
In her first year out of high school, Anahera had left her hometown of Invercargill to move to Wanaka to live and work alongside Maaka and the team at Lindis Peaks orchard where premium cherries are grown for the global export market.
It has been a steep learning curve for Anahera, who enjoys learning how to operate machinery and carry out orchard work such as spraying, pruning and thinning, in all kinds of weather.
She enjoys living and working in an environment different from the one she grew up in, as well as learning about the cultures and ethnicities of her colleagues.
Arriving in mid-winter 2023, Anahera was struck by how much goes on behind the scenes in the orchard such as frost-fighting and the attention to detail paid to every tree to ensure they are in the best of health.
Loren Lilley
Orchard worker
A love of the outdoors and farming inspired Loren Lilley to embark on a career in horticulture.
Loren joined the Hortinvest team in late 2023 just in time for cherry season, after completing a Bachelor of Agricommerce at Lincoln University.
Her farming journey began growing up on a kiwifruit orchard in the Bay of Plenty region and she was equally inspired by her father, a dairy farmer.
Loren, who relocated to Wanaka to assume her position, is assigned to the Lindis Peaks cherry orchard where she is an orchard worker responsible for general crop work and orchard maintenance.
She embraces all aspects of orchard life, especially working outside, discovering the beauty of the Central Otago region and the opportunity to learn about what goes into producing cherries for the export market.
We are always looking for talented and driven people to join our growing team.